Top 10 Best Recruitment Agencies in Singapore to Land Your Dream Job
Res, 11 months ago
1
4 min

read
160
In today's age of technology, many of you might have landed your first job by going through different job ads online. But after getting the experience and skills, wouldn't you want to land yourself on a job without trouble? Hence, to get a little help searching for the right employer based on your expertise, experience, and other such qualifications, going through a recruitment agency is the best option. So, what are you waiting for? Ready for the big leap? Here's a list of the top 10 best recruitment agencies in Singapore.
Not only are they dubbed as one of the best recruitment agencies in Singapore, but Kelly Services is considered the top 1 recruitment agency in the world. With over 70 years of experience and offices located globally, they are responsible for a total of over 1 million professionals successfully hired to this day. This company does best to provide work for professionals with technical and functional expertise in many industries like engineering, human resources, contact centres, banking & finance, and many more. They also help provide talents for top positions for multinational corporations.
Address: 8 Marina View, #11-01 Asia Square Tower 1, Singapore 018960
Phone number: (65) 6709 3388
With an average of 1,400 successful hires in Singapore each year, and around 500 plus on-hire associates putting their skills to work, there's no doubt about Adecco being in the top 2 on our list. Based in Switzerland, and with more than 500 locations worldwide, Adecco prides its extensive applicant database and sources talents in several sectors like IT, engineering, finance, science, and legal sectors.
Address: 1 Scotts Road, #18-08 Shaw Centre Singapore 228208
Phone number: +65 6835 3400
The GMP Group is one of the pioneer recruitment agencies in Singapore, founded in 1991. It is also one of the most prominent and more reliable headhunting offices for positions in banking, manufacturing, IT, and chemical/oil and gas industry.
Address: 1 Finlayson Green, #10-00, One Finlayson Green, Singapore 049246
Phone number: (65) 6736 2022
Aside from Singapore, Randstad agency has locations in 39 other countries. This global recruitment agency has worked with 90% of all Fortune 100 companies. They are also part of the top 5 best recruitment agencies in the world.
Furthermore, apart from the recruitment process, they offer services in helping employers build their teams and equip them with the latest industry strategies.
Address: Randstad Pte. Limited, 50 Raffles Place, Singapore Land Tower, #17-02, Singapore 048623
Phone number: +65 6510 1350
This recruitment agency boasts 70 years of experience in the industry, with offices in Singapore and 80 other countries worldwide.
Additionally, this recruitment agency, under the ManpowerGroup, offers a wide range of sectors, with a vast number of positions focused on sourcing for the IT industry.
Address: Manpower Staffing Services (S) Pte Ltd, 1 Wallich St, #09-02 Guoco Tower, Singapore 078881
​Phone number: +65 6232 8811
If your dream job is in the field of construction, oil, gas, and real estate sectors, 3C Synergy is the best option for submitting your CV. This company focuses on the 3Cs, which stands for candidates, clients, and consultants. Apart from Singapore, they also offer positions in Malaysia and Hong Kong.
Address: 3C Synergy Singapore, 1 Neil Road, 02-04, Singapore 088804
Phone number: +65 6225 5404
Founded in 2000, this agency specialises in multinational corporation positions focusing on professionals, managers, executives, and technicians. With its founder's vast experience in the executive position himself, no doubt his exposure has helped the agency establish its name in Singapore.
Address: 100 Beach Road #21 – 04/05, Shaw Tower Singapore 189702
Phone number: +65 6338 9119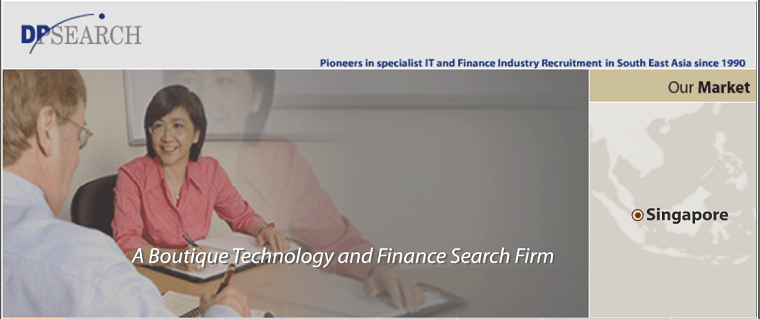 Are you eyeing for that executive-level position in the IT and Finance department? Get connected with DP Search so they can help you land the job. The agency offers work not just in Singapore but also in entire Southeast Asia.
Address: 7500 Beach Rd, The Plaza, Singapore 199595
Phone number: +65 6339 3935
Though based in London, JAC recruitment has made its name well-established in Singapore and across 11 other countries worldwide. Aside from their wide range of opportunities, they highly boast of their heaps of Japanese clients.
Address: 1 Raffles Place #10-00, One Raffles Place, Tower 1, Singapore 048618
Phone number: +65 6224 6864
Are you specializing in HR recruitment and dreams of working overseas? Well then, Frazer Jones is the right agency for you! This agency is strongly suited to HR recruitment and searches locally and globally for the last 20 years.
Address: 30 Cecil Street, #21-03/04 Prudential Tower, Singapore 049712
Phone number: +65 6420 0515
Landing your dream job is not always easy. Sometimes, despite having the correct qualifications, skills, and expertises, you still need to seek professional help. Hope our list of best recruitment agencies in Singapore can help you in your job search. Good luck job hunting!
Related posts
Subscribe for newsletter
* You will receive the latest news and updates on Singapore's best trends!