20 Best Studios For Pilates in Singapore
Ankit, 10 months ago
0
13 min

read
68
When it comes to fitness you do not want to leave any stone unturned. However, with so many varieties of exercises and fitness centres, it can be hard to stick to one. But people who want to improve their posture, endurance, and flexibility should go ahead with Pilates classes. With a range of personalization options, and different Pilates techniques, we bring you the best studios in Singapore. Moreover, there is a range of world-class Pilates studio options in Singapore with their own specializations.
As a fitness enthusiast, if you want to reach a particular goal, Pilates Fitness can help. With a range of options available to choose from, they can help you with everything. If your goal is weight loss, feeling rejuvenated, achieving flexibility, they can help you best. Also, they have a lot of classes scheduled throughout the week, so you can go as per your convenience.
Their best feature is the availability of couple classes that focus on pre-natal fitness and self care.
Reach Pilates Fitness at: +65 9184 7622
They're open for business from 8:30 AM to 9:30 PM during the weekdays. Also, they're open for classes on Saturday from 9 AM to 6 PM but closed on Sundays.
Central Pilates is a great solution for people looking to improve their bodily conditions through Pilates. Moreover, they integrate your class with dance and therapy sessions for the best results. This helps with pain relief as well as their therapy helps improve joint or muscle problems too. Central Pilates is a great Pilates studio for beginners and regulars alike.
As one of the best Pilates studio centres in Singapore, their results speak for themselves. You can feel the difference within a few classes, and feel better about your body with therapy sessions.
You can reach them at: 67355918 or 83839718
Their hours change and it is best to contact them for enquiring about personal or group sessions.
If you are looking for the next level of Pilates, SmartFit Pilates Singapore studio can help. Not only do they specialize in helping you enjoy and sustain Pilates in your lifestyle, but go beyond. For traditional Pilates lovers, this is the next challenge with a KinetiCube designed to give you a full-body workout. Moreover, they also combine cardio, stretching, Pilates and other exercises to give you a good burn and enjoy the process.
Their unique KinetiCube is an innovative approach to taking Pilates and fitness to the next level. Also, their combination of different exercise regimes makes it one of the best Pilates studio centres in Singapore.
Reach SmartFit Pilates here: +65 8571 8549
They are located on 91 Tanglin Road, 04-03, Tanglin Place, Singapore 247918, and you can check their website for working schedule.
Working on your core can be incredibly fun with the help of Core Fitness Physiotherapy and Pilates studio. Not only do they make it fun for you, but also help in recovering or improving underlying physical issues. They also offer private classes and help you maintain a good posture.
They're best known for their exercises that improve posture, flexibility and help you develop a love for stretching and Pilates.
You can reach Core Fitness Physiotherapy and Pilates at: +65 6737 3406
Their operating hours vary and you can check them here.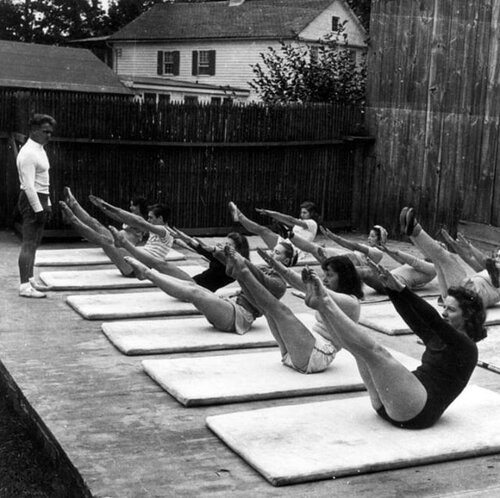 As a dedicated and focused option to help you get into Pilates, Pilates Smith is the studio you can finalize. Moreover, Pilates Smith is one of the few Pilates studio centres in Singapore that customize routines for everyone. If you are looking for flexibility, endurance and other such fitness goals, Pilates Smith can help.
Pilates Smith is the best at helping you develop a fitness centered mindset. Moreover, they offer you the combined benefits of mat exercises and Pilates to give a full body workout that you enjoy.
Reach Pilates Smith at: +65 8892 2600
Their working hours depend on the location centre and their schedule. Check here for more details.
Breathe Pilates is a complete rejuvenation centre for your health. You can rely on them to help you restore your mental and physical health with the help of Pilates. Also, they use a range of personalized exercises and therapy treatments to make you fit and happy. Breathe Pilates also have rehab options for you to regain control of your confidence and happiness.
They are best known for their health expert guidance, that is a personalized experience to bring out the best results.
You can reach Breathe Pilates Singapore at: +65 6850 5082
They are open for classes on weekdays from 10 AM to 7:30 PM. Also, Breathe Pilates is open on weekends from 9:30 AM to 1:30 PM.
Pilates Plus is the one-stop class for beginners that are just getting started with Pilates. They get you to enjoy the process and teach you fundamentals as well as advanced techniques at a later stage. Moreover, Pilates Plus is a great place also because of their pricing and packages for private and group sessions.
Great for beginners and people who are just starting out to perfect their fundamentals before moving on to advanced Pilates.
You can reach Pilates Plus at: +65 62211845
They are open for classes every day of the week except Sunday between 7 AM and 7 PM.
Focus Pilates lives up to its name with its priority on quality pilates classes. Moreover, they can show you basics to advanced Pilates classes that are good for people with existing conditions. Also, Focus Pilates also offers classes for expecting couples and post natal care as well. Their best feature is to look after improving fitness for people with existing conditions or injuries.
Focus Pilates works with you to take care of your injuries and special needs to give you encouragement to make Pilates a part of your lifestyle.
You can reach Focus Pilates on: +65 6235 3938 or +65 6327 2072.
They're open for sessions throughout the week in different timings. Usually, they are open Monday through Thursday between 7:30 AM and 8:30 PM. Their timings on weekends and Fridays also varies every day.
If you are looking for a complete fitness package that helps you with Pilates among other fitness regimes, this is the place. The Moving Body Group integrates the benefits of physiotheraphy, massage and gentle movement in your Pilates class. This is a premium Pilates studio that works with you to help you work on yourself.
They're best at personalized fitness, where you get the benefits of physiotherapy, massage and Pilates packed into one.
You can reach the Moving Body Group at: +65 6312 2388.
You can enquire about classes and schedule by reaching them on their number or here.
Body N'Sync is an all inclusive Pilates studio that specializes in a variety of Pilates forms. Moreover, they are also known for their customized and dedicated fitness and Pilates exercises. If you are an expecting couple or want specialized fitness integrated into your lifestyle, Body N'Sync can help and guide you.
Body N'Sync specializes in special care and fitness that suits your body rather than generalizing it.
You can reach Body N'Sync at: +65 6909 0533, and +65 8525 3339.
They're also open from 9 AM to 8 PM in the weekdays and 10 AM to 3 PM every Saturday with Sundays off.
If you are looking for a more personal session, Options Pilates is the Pilates studio to choose right away. Having a more personal and dedicated approach shows in the Options Pilates way of teaching. You get better results, and more guidance making you fall in love with Pilates!
Options Pilates offers private sessions with world class certified Pilates instructors to guide you through basics and advanced exercises.
You can reach Options Pilates at: +65 6235 9725 and their Sime Darby Centre here: +65 9650 5787
As they offer more private sessions, it is best to get in touch and see what works with you. You can choose from being a part of small groups or private sessions for maximum focus.
As a Pilates studio that focuses on your routine, physical health, and sustainability, Pilates BodyTree is great option. Moreover, as they design their classes and exercise recommendations around you, you can rest assured that you would get great results. Personalizing and giving private attention to your needs, Pilates BodyTree is the place to go to if you are looking for personal guidance.
Pilates BodyTree is also one of the few Pilates studio centres in Singapore that uses evidence based guidance to personalize your fitness routine.
You can reach Pilates BodyTree here.
Their operating hours also vary depending on locations and schedule.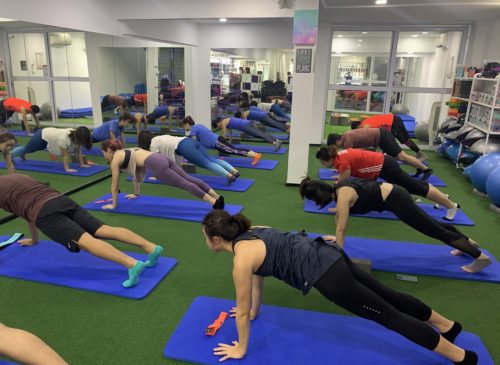 When you've tried everything and despite successes, you keep on rebounding, SP+ Pilates can help. They help in not only developing your physical but mental health as well. You can rely on them to help you develop a positive and sustainable routine to follow and avoid those relapses. SP+ Pilates is one of the few Pilates studio centres that help you mold your mind and physical body to enjoy fitness rather than resent it.
SP+ Pilates also offers you the benefit of Yoga in addition to Pilates and makes you fall in love with fitness. Their range of programs is designed to help you integrate into your lifestyle gradually with ease.
Reach SP+ Pilates at: +65 9029 0687
You can inquire about their schedule here.
Absolute You Singapore is the place for you if you workout best in groups and like variety with your exercise regime. Not only do they offer you group classes, but also offer a variety of exercise guidance. As one of the best Pilates studio options in Singapore, they offer Rhythm cycling, Pilates, among other programs.
Absolute You is the perfect Pilates studio in Singapore if you find it difficult to feel motivated to work out. They make everything fun for you, while at the same time helping you achieve your fitness goals.
Reach Absolute You at: +65 6732 1522
You can find their Pilates studio centres in Singapore in Peranakan Place, Downtown gallery, and Millenia Walk near MRT: Promenade.
Fitnut Loft is a female centric fitness establishment that helps you develop a fitness mindset. Not only does it make Pilates easy, but fun and sustain no matter what. They specialize in helping you recover from health conditions with what is possible through a regular exercise routine. Fitnut Loft is the best woman only Pilates studio in Singapore.
A female only Pilates studio, the Fitnut loft specializes in improving your physique, and health through special classes.
Reach them at: +65 8686 8299
They have different timings throughout the week, and are usually open for 7:30 AM to 3:00 PM from Tuesday to Friday. Sundays remain off as Monday and Saturday also vary.
Upside Motion is a well known Pilates studio in Singapore, and you can even check out their app for details. However, with their affordable rates and super accessible location in Singapore, it is a steal to enroll. Upside motion can help you get into Yoga, Pilates, and other fitness routines to make the best out of your physical health.
Their range of packages and specially designed classes, and affordability make them a great Pilates studio in Singapore.
Reach them at +65 6636 6859
Their schedule depends on locations and availability, and you can check everything in detail on their app.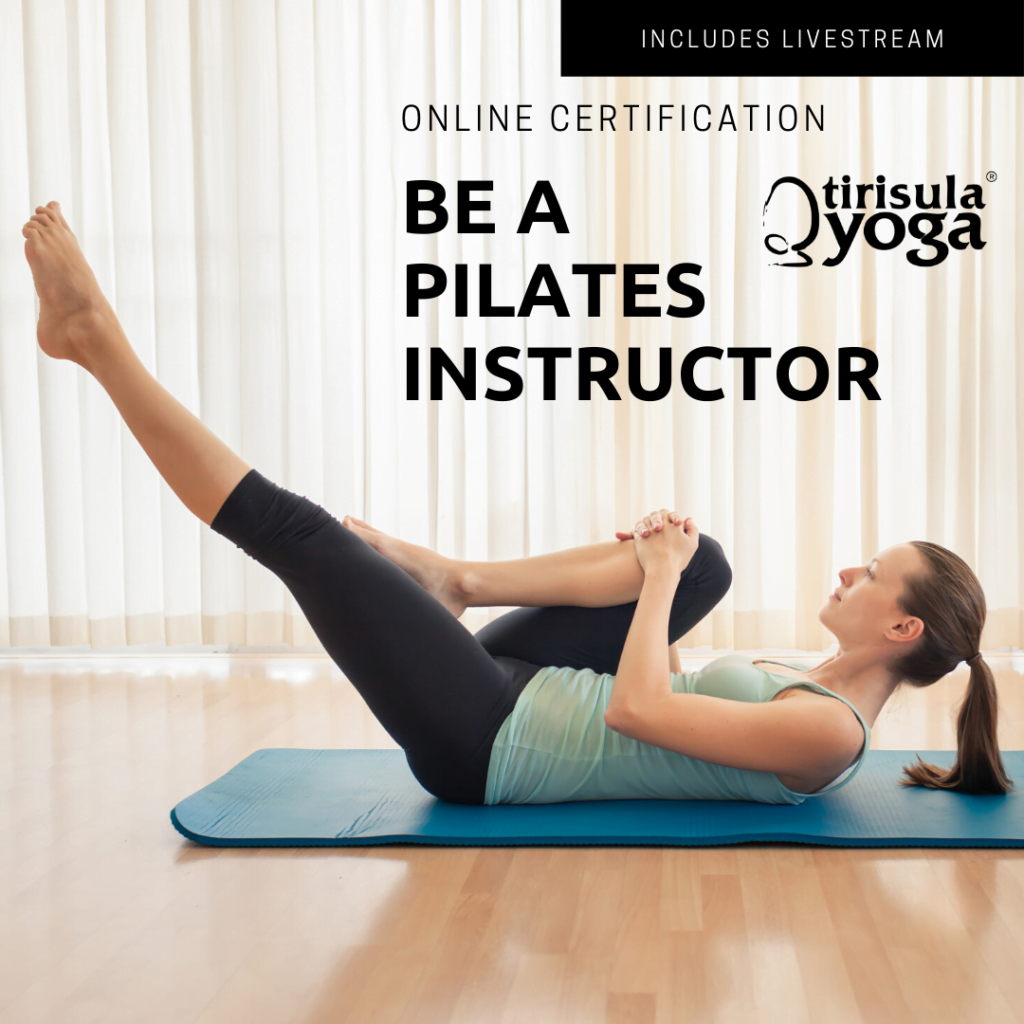 As a Yoga centric studio, the Tirisula Yoga Studio also offers decent Pilates classes. By focusing on your flexibility and body's endurance, they not only help you achieve your fitness goals, but also help make it a habit. Their main advantage is the use of Yoga and mat exercises to help you enjoy the process.
With best in class infrastructure and combination of Yoga, the Tirisula Yoga Studio is one of the best options to choose from.
You can reach them at: +65 6304 3552
Their schedule varies greatly but you can expect them open between 7:30 AM and 9:00 PM from Monday to Thursday. Moreover, they are open throughout the week and even on public holidays but timings are subject to change.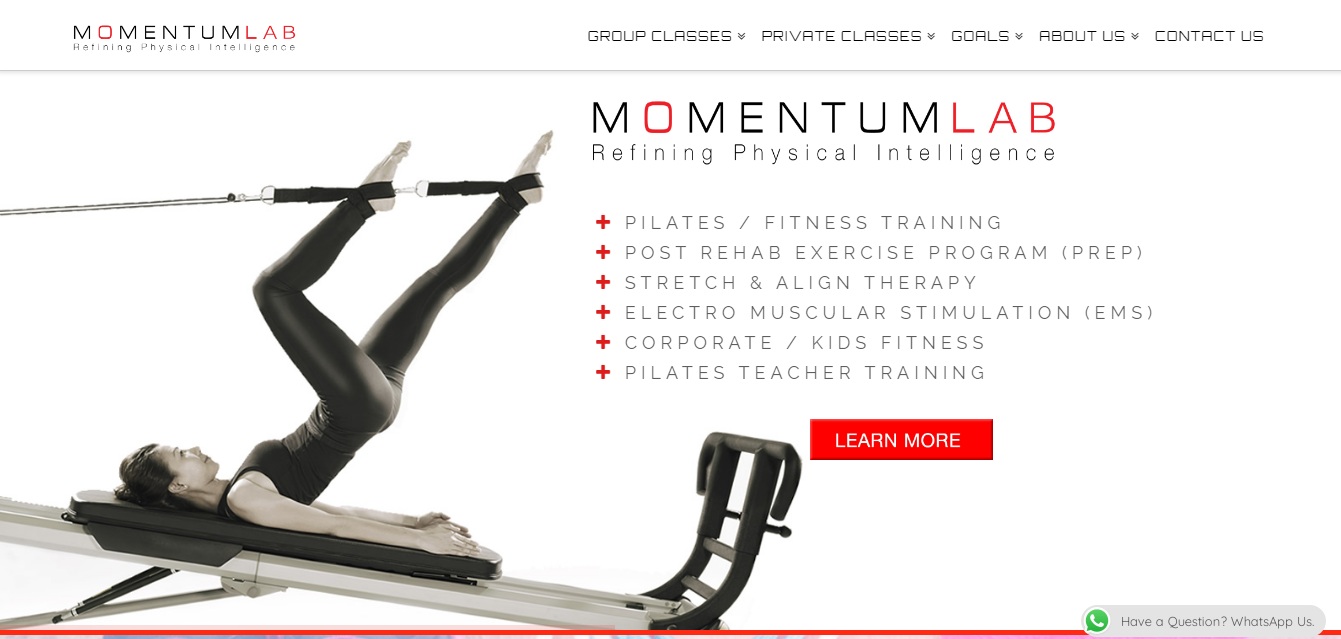 As one of the best Pilates studio centres in Singapore, Momentum Lab has plenty of certified trainers to help you enjoy Pilates. Moreover, you can also opt for personal and group sessions, and enjoy the best of both worlds. Momentum lab offers you functional training, Pilates, as well as special needs exercises.
Momentum Labs are best known for their personal classes that help you achieve your groups individually or privately.
Reach Momentum Labs here: +65 6339 2210 or +65 8228 1337
They're open Monday through Friday between 7:30 AM and 8:30 PM, but closed on Tuesdays. They're also open on weekends up till 2:00 PM.
If you have been through a variety of Pilates instructors and Pilates studio centres, the same old Pilates might not be fun anymore. That is where Pilates Flow comes in, and their highly skilled and certified instructors can make sure that you enjoy a new challenge. Moreover, their method has proven very successful in a lot of people and helped achieve their goals.
Pilates Flow is a great option for people who want to take their next step in the world of Pilates and overcome a difficult level.
Reach Pilates Flow at: +65 6469 4126
They're open nearly everyday between 8 AM and 8 PM.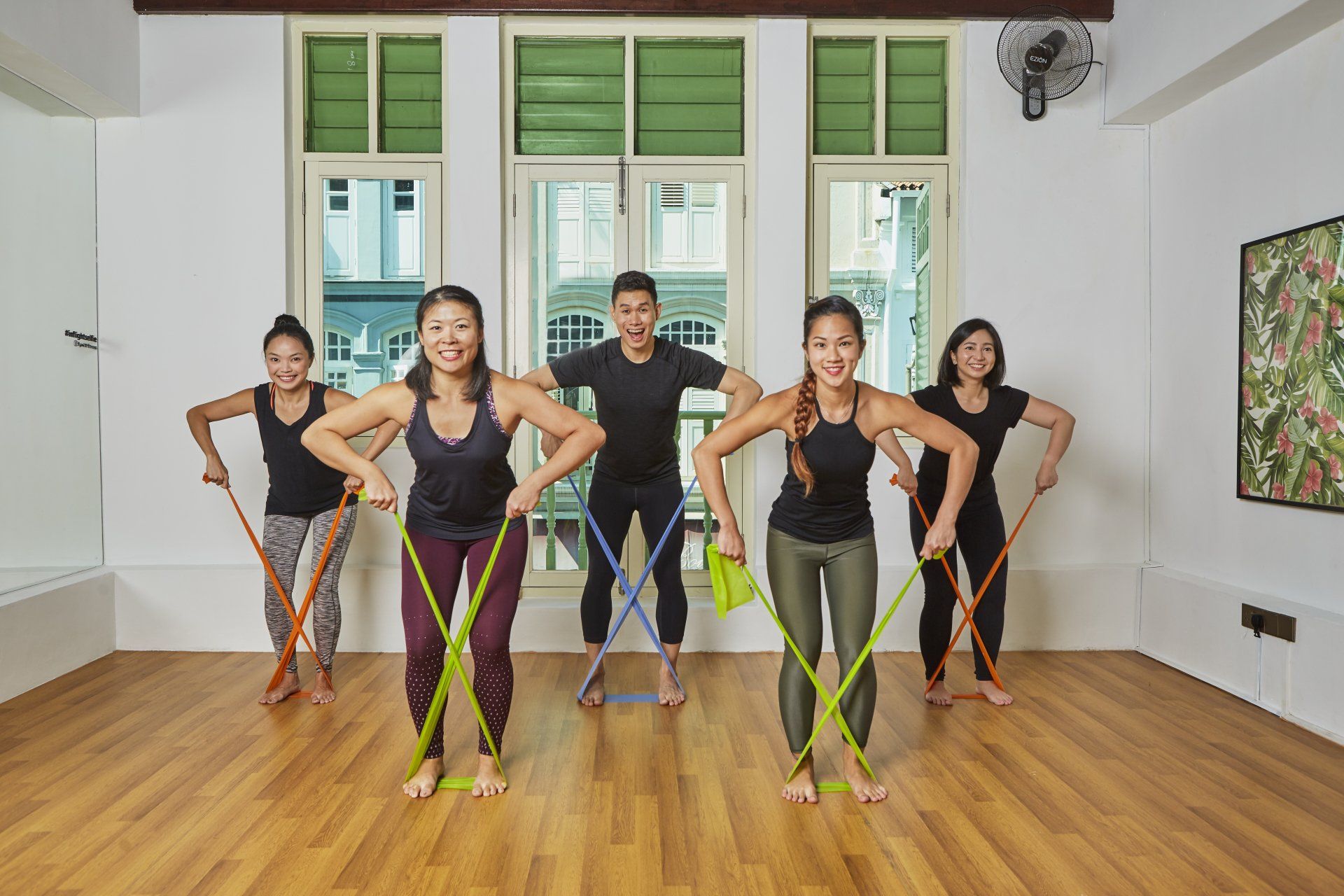 As an overall health package that considers your diet, mental health, and physical Fitness FlyWith Fitness is one of the best Pilates studios in Singapore. Additionally, they integrate Yoga, Pilates, and other techniques into one enjoyable routine and practice to achieve your fitness goals. FlyWith Fitness offers a complete packaged approach that is best for your mind, body, and mood.
FlyWith Fitness focuses on your diet, habits and fitness activity to give you the perfect package to improve and work on your physical fitness.
Reach them at: 65 8878 9871 or +65 8878 9872
You can inquire about their classes and details here.
Pilates is a form of physical activity that tests your endurance and flexibility. It is not necessarily good for strict weight loss, although it can be a side effect of any physical activity depending upon your calorie intake. However, these Pilates studio centres not only make it fun but sustainable and enjoyable for you to both enter and maintain a fitness lifestyle. That is why SmartFit Pilates and Central Pilates are our highest recommended Pilates studio options in Singapore.
Related topic: Best 5 Items to Help You to Stay Calm and Reduce Stress
Related posts
Subscribe for newsletter
* You will receive the latest news and updates on Singapore's best trends!