Unless you stay close to a mall or the interchange, chances are that sushi isn't a dish that is readily accessible in our neighbourhood. However, this does not mean that you have to travel down to your nearest sushi joint in order to get some. In fact, with our list of the top 5 best online sushi delivery services in Singapore, you won't even have to leave the comfort of your own home! As many of us find ourselves at home due to circuit breaker measures, many sushi joints have taken up delivery options in order to bring that fresh sushi to our doorstep. Our list ensures that the freshest of sushi is only a few clicks away wherever you are in Singapore.
If you're an avid fan of sushi and have heard about Tsukiji fish market in Japan, you would know that they house and sell only the freshest of fish supplies. Even those standing at the pinnacle of the Sushi scene in Japan visit the Tsukiji fish market daily to procure their fish. Would you believe us if we told you that you could have sushi made using fish from Tsukiji fish market brought freshly to your doorstep? Sushi Delivery makes this possible by securing fish supplies in Tsukiji fish market before shipping them directly to Singapore in optimum ice-cold conditions.
Wait, there's more. Not only is the fish freshly sourced from Japan, but Sushi Delivery's sushi rice is also as well. Premium Japanese short-grain rice is sourced directly from Miyagi and delivered to their kitchens. With these elements combined, Sushi Delivery promises only the freshest sushi using premium Japanese supplies by going the extra mile to deliver an authentic Japanese sushi experience.
With a wide variety of sushi and maki available, you'll definitely be spoiled for choice at Sushi Delivery. If you're a sashimi lover, 8 different varieties of sashimi freshly flown from Tsukiji fish market await you. Planning to have a celebration or party in the near future? Sushi Delivery has got you covered with their multiple sushi platters ready to feed your hungry sushi loving guests.
Having focused on a pure delivery model, Sushi Delivery certainly is the king of delivering sushi in Singapore with their quick, painless and customer-oriented delivery service. After placing your order, which will be delivered within the 1-hour timeframe that you've selected, you can drop Sushi Delivery a whatsapp message to inquire about your order status to ease your delivery concerns. Furthermore, in the unlikely event that your sushi arrives 60 minutes past the selected timeslot, Sushi Delivery will offer you $10 off for your next order with them. Based around customer satisfaction, Sushi Delivery will leave you satisfied and wanting for more. With free delivery for orders above $60, hit up your family and friends before heading over to their website to get your hands on the freshest sushi available!
Committed to serving high-quality, healthy and affordable sushi, Standing Sushi Bar finds itself second on our list. Inspired by the standing sushi bars in Tokyo, the store embraces a true standing concept where patrons can stand near the sushi counter to consume their food. If standing isn't for you, fret not as Standing Sushi Bar now delivers island-wide! Whether you prefer having individual sushi or enjoy the variety of a sushi platter, Standing Sushi Bar has what you're looking for. Between chef specials, classic rolls and sashimi, there's something for every kind of sushi lover out there. Know someone who loves sushi and has their birthday coming up? Break away from the standard birthday cake norm with the variety of unique sushi cakes sold here.
With a 2-hour notice, Standing Sushi Bar will delivery right to your doorstep wherever you are. With free delivery for orders over $80, check out their website for promotions and order that sushi that you've been craving.
We couldn't make this list without including a halal certified sushi establishment. Hei Sushi is the first ever halal Japanese belt sushi restaurant in Singapore and serves delicious, high quality halal certified sushi at affordable prices. With unique deals like their 'Oishii Meals for 2' which consists of an assortment of sushi, tempura and 2 free cans of coke, you will find your favourite sushi at unbelievable prices at Hei Sushi.
As if we haven't discussed affordability enough, use the promotional code 'HEI10OFF' to receive at 10% discount for your online orders. If you would like to order from Hei Sushi, there is a low delivery fee of $5.50 which is waived off for orders above $86. Cheap, delicious and halal certified, place your orders at the Hei Sushi website today.
Ever present at shopping malls and bus interchanges, we are no stranger to brand Umi Sushi. Known for serving quick and affordable sushi, their delivery service is similarly so. With a dedicated delivery menu, there are many online exclusive deals like 20% off selected items and a 10% discount when orders are delivered between 10.30am to 2pm.
If you live in a more remote area of Singapore, do not worry as there are no additional distance charges when using Umi Sushi's delivery service as they offer a flat rate of $5.50 island-wide. With a minimum order fee of $30 in order to use their delivery services, get some other sushi lovers together and order directly from the Umi Sushi website.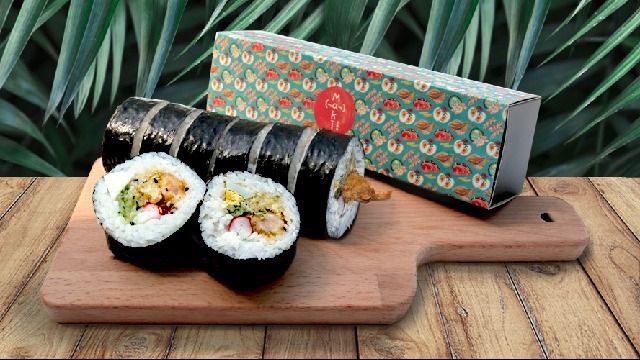 Known for having customisable maki rolls, Maki-san is a great choice in you desire a sushi delivery service that caters to your personal preferences. With a $9.50 and $11.90 option, you can create a maki roll using ingredients of your own choosing. If designing your own sushi isn't for you, you can select from a variety of fixed maki roles that will have you wanting more. With various packages and platters available, Maki-san is the one stop shop for all maki lovers out there.
With multiple delivery options through Deliveroo, Food Panda and Grab food, order your favourite Maki with ease.
Sushi is oftentimes thought of as an expensive luxury. However, with the many affordable choices on this list, we guarantee that sushi is easily accessible to you in more ways that one. Why wait? Take advantage of these amazing sushi delivery services and have quality sushi sent directly to you!
Related topic: Best 7 steamboat delivery service in Singapore
Written by: Tan Yi Bryan
Related posts
Subscribe for newsletter
* You will receive the latest news and updates on Singapore's best trends!