Best 7 Barber Shops in Singapore
Puneeta, 7 months ago
1
6 min

read
61
Men need to change their styles with time. Once you bring a change in you, it becomes a trend. A new hair cut brings a new change in style and trend. Its summer season now and you must be surely looking to bring a new turn in yourself with the stylish cut. But you must be thinking about the best barbershops in Singapore that will provide you with premium high-quality services. Not only trims, but proper barbershops have been providing the best and variety of hair care services to you. Turn yourself into a gentleman for attending business meeting or events. No matter, which function or a game you have to attend you will be happy these listed best 7 barbershops in Singapore. 
Before and after barber will become one of your favorite barbershops once you pay them a visit. This store uses all the innovative techniques that make a good high-quality barber shop.
Moreover, their professionals are extremely friendly and willing to help in fulfilling every possible barbering needs of its customers.
Above all, this store has a wonderful location in the central area of Singapore. Their professionals test the scalp issues of customers and also recommend them with excellent products as well as shampoos. Thus, you will also get effective hair repair with different therapies online from this shop. Overall, definitely deserving of topping our list of the best barber shops in Singapore.
Highlights
Classic and simple close cut
Modern and innovative services in haircare
Custom hairstyle range
Address: 33 Erskine Rd, #01-12, Singapore 069333
Phone: +65 8833 0003
Website: https://www.beforeandafterbarber.com/
Barber 25 shop is open to both men and women. They treat their customers very professionally by using quality cutting and shaving equipment.
This store offers various services to its customers such as hair cutting, hair coloring, hairline refining, head shaving, wet shaving of the beard, beard trimming, highlighting hair, washing, hair blowing, and hair manicure.
You can also ask for combo packs from the professionals so that you can enjoy two or more barbering services at a lower price. Barber 25 offers good hair packages that fit your budget. Overall, definitely one of the best barber shops in Singapore!
Highlights
Fine barbering experiences
Good and budget-friendly packages
Fresh trim style and haircut services
Address: 6A Shenton Way, #03-16 OUE Downtown Gallery, Singapore 068815
Phone: +65 6222 7551
Website: https://www.barber25.net/
Autocutt Barbershop has been popular for the old-school hair looks and more refreshing trimming sessions. You will find that the surroundings of this shop are filled with vintage and rare parts of old automobile signs.
The professionals are well-experienced. Moreover, they only use original fragrance Cologne for skimming the face of the customers. The barbers of this store are also great at beard trimming and hot towel shaving.
Moreover, you can also have excellent service of hair tattoo by booking exclusive treatment appointments at reserved time slots.
Highlights
Hairstyling products available at the shop
Provides hair tattoo services too
Old school set up style haircut
Address: 47 Tanglin Halt Rd, #01-313, Singapore 141047
Phone: +65 9186 1233
Website: https://www.autocutt.com/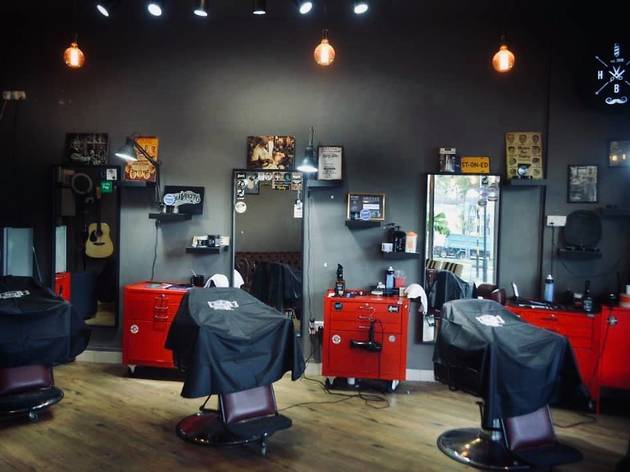 Hombre Barbershop has always been perfect in their work. They always commit to provide classic and stylish service to the customers. The warm atmosphere of this shop helps in attracting the attention of many men.
The barbering experts also provide excellent hair wax products to their customers. You need to book a pre-visit appointment so that you can quickly receive contemporary service from the barbering professionals of this shop in Singapore.
Every man feels great after leaving the barber store because barbers always focus on providing a clean and sanitary salon atmosphere.
Highlights
Provides fresh feel hair trim
Also kid-friendly services
Assure the quality of the product used
Address: 228 Changi Rd, #01-04, Singapore 419741
Phone: +65 8750 9301
Website: https://www.hombrebarberssg.com/
Premium Barbershop never fails to offer wonderful and powerful hair coloring service to the clients. Moreover, they always check the personal styling taste of the customers before trimming their beards.
One goal of this shop is to make customers completely satisfied and relaxed with the risk-free grooming.
You need to pay extra charges for the blow-dry and hot hair washing serice. However, the classic look is always ready for you when you step in Premium Barber Store. Men get fine grooming for a premium style cut to attend different events.
Highlights
The finest grooming salon for men
Premium A-class service
Discounted packages for hairstyles
Sultan of Shave barber store combines the art of passion and talent to groom the male hair properly. The professionals of this store have a royal touch and therefore, they present countless hours' talent to the men.
The stores always focus on perfection by using various barbering tools and products on the customers. All the products get checked by the professionals of the store after handpicking them.
It also consists of the extra relaxing areas under which men can easily get great pampering massages. Sultans of Shave ensures the best and premium barber services in a customized manner.
Highlights
Provide oral care and scalp care
Three different scalp supplements available
Provide natural cleansing with shampoo
Address: 11 North Canal Road #02-01, Singapore 048824
Phone: +65 6222 0201
Website: http://sultansofshave.com/
The Splice Barbershop is very famous among grooms and men that love traditional arts of barbering. This barbershop consists of their best place located at Suntec City Mall in Singapore.
The reason behind the location is that this shop wants its customers to enjoy the view of the modern walls of the mall and also they can shop after having amazing traditional cutting.
The experts always try to offer gentleman hair styling look to the men. Therefore, all the fashionable side and front cuts are available at this store with a washing and hair cleaning area.
Highlights
Online appointment booking
All salon services available with accessories
Good hair care packages in your budget
Now you can keep yourself stunning and happy with the nice impression of the people. They will love your new trending haircut with a smile and some attitude of smartness on the face. The best barbershop opened in Singapore can turn your downside up. We have helped you by listing the best 7 barbershops in Singapore for you, and you can hire services from anyone of them. Choose the best one you like and meet your needs. Don't wait; it's time to enhance your appearance with the best option available for you.
Check out our other related articles:
Written By: Puneeta Gupta
Related posts
Subscribe for newsletter
* You will receive the latest news and updates on Singapore's best trends!