Best 10 Singapore Fitness Influencers to Follow
Norazim Azami, 7 months ago
1
8 min

read
93
Fitness and health are not just random acts of burning calories and starving yourself. Rather, it is a long-term journey that is full of ups and downs. Therefore, it is important for you to have people who can constantly guide and inspire you to push your limits as you transform yourself to be stronger. These are some of our best local Singapore fitness influencers that might be your next source of fitspiration!
With nearly 40,000 followers on Instagram, Cheryl is undeniably a force to be reckoned with.
She is all about self-love:
As a matter of fact, Cheryl herself suffered from body image issues and eating disorders in her younger days. The founder of Rock the Naked Truth has always encouraged others to be comfortable in their own skin. More importantly, she believes that life goes beyond the numbers seen on the weighing scale. After all, there is so much more to life than looking good for others.
She is ahead of the fitness game:
Cheryl is very active in CrossFit training and triathlons. Additionally, she has always been vocal about her fitness journey and has inspired many others to do the same. Likewise, Cheryl is also one of the few female motoring journalists in Singapore; and is also the organizer of ELITE, a three-round fitness competition, in 2015. Overall, she is truly deserving of topping our list of the best fitness influencers in Singapore.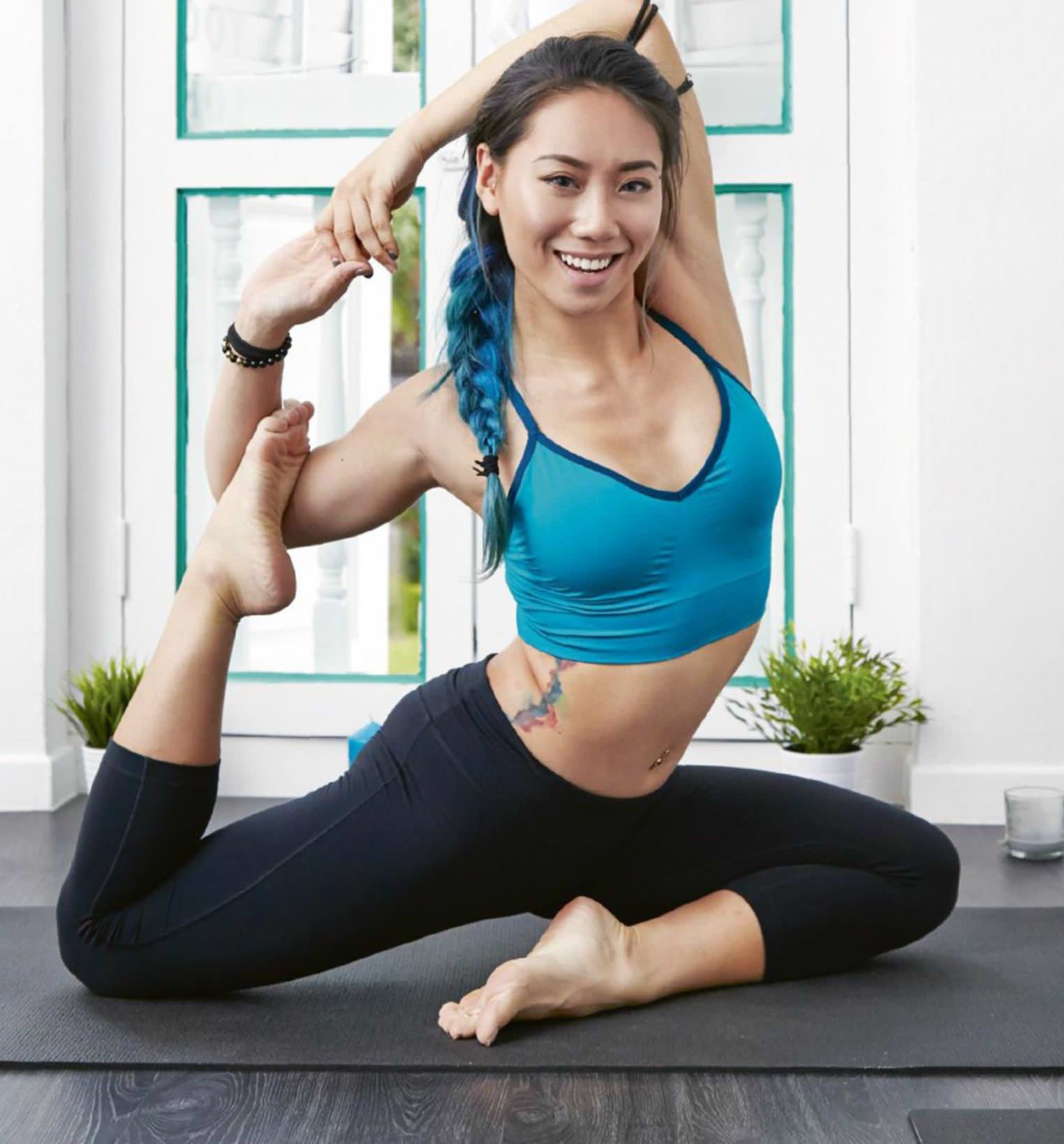 You might have heard of the next fitness influencer on our list.
Fearless in the face of adversities:
Sandra Riley Tang is one fearless fitness enthusiast. Firstly, she is well-known as a member of the Singaporean band – The Sam Willows. This confident lady has even survived an ovarian cyst surgery! Instead of using that as an excuse to stop, she took that as her strength to push her limits. This has definitely many Singaporean females to do the same. Likewise, she loves to mix it up in her free time by doing Muay Thai, MMMA and rock-climbing.
CrossFit and Yoga enthusiast:
More importantly, Sandra is very passionate about Yoga and has founded the Yoga Collective. If that's not amazing enough, she was once seen flipping a 150kg tire!
Certainly, she is someone that is worth looking up to in this fitness game.
You cannot talk about fitness influencers and leave out Georgina Poh.
Credible and professional trainer:
This 23-year old fitness influencer is more than meets the eye. Georgina is a certified personal trainer by the American Council on Exercise and Nike NTC. Similarly, she is also the chosen ambassador for both Nutritionist and Nike. If that is not amazing enough, she was also the Health and Wellness Influencer representing Singapore in the Influencer Asia event in 2015.
Exciting and creative fitness content:
Simply head down to her Instagram and check out her workout routines. Georgina is super transparent about her workout from upper body work out till legs workout. She even shares her tips on healthy diets. You name it, she has it.
Georgina Poh is surely an inspiring figure that most of us can strive to emulate. Definitely one of the best fitness influencers in Singapore to follow.
This former national swimmer is clearly one of the most reputable individuals in Singapore's industry of fitness influencers.
Singapore's pride:
Joel has represented Singapore in international games for over a decade. He even clinched 1st position in Singapore in 2008 for 100m the Breaststroke category. Joel has been featured countless times in several popular magazines for his amazing contribution in the fitness world. In fact, Joel was voted by Lifestyle Asia as one of Singapore's top 10 best fitness Instagrammers to follow. What an awesome lad!
Passionate about serving others:
The founder of B Bounce Studio and Beat X Studio is certainly motivated to help others achieve their health goals. Joel has helped over 1,600 people reinvent workouts that are more effective and safer.  Be sure to check out his 'Hybrid Reinventing' program that will amaze you.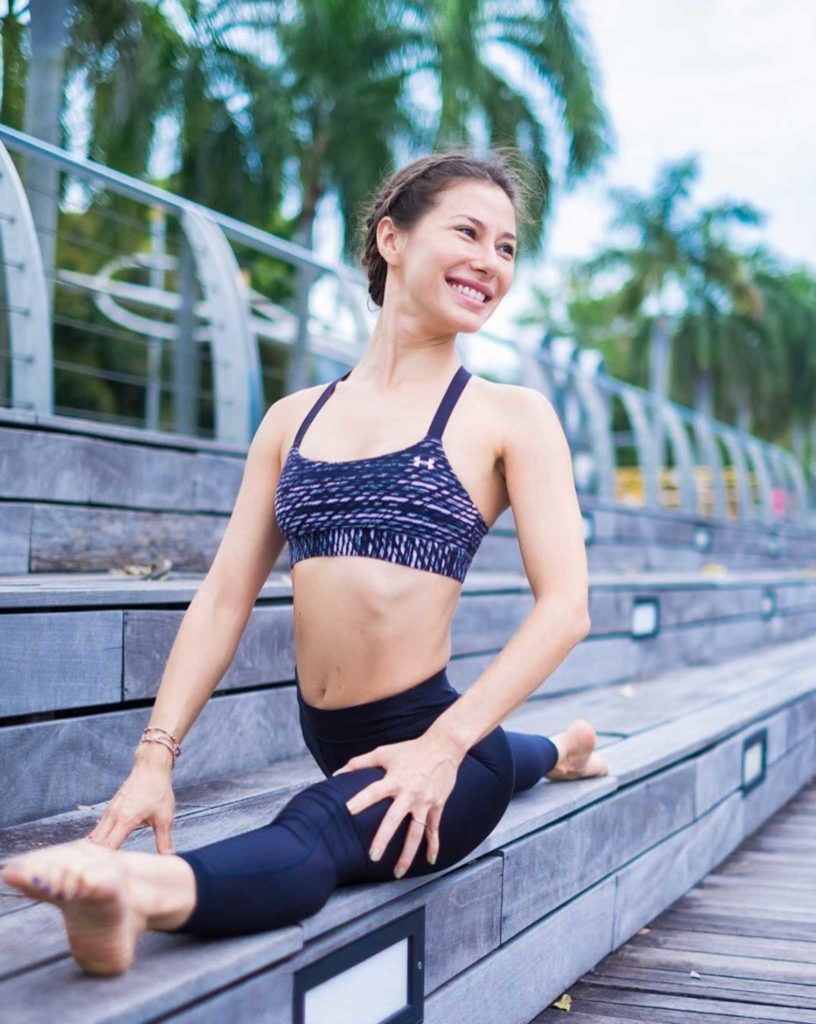 Calling out Yoga enthusiasts out there! We got you covered too.
Multi-talented female public:
Modelling, Hosting. Acting. You name it, she does it.  Denise Keller is indeed a lady that excels in everything she does. In fact, she is also a very popular name in Singapore's Entertainment world.
Bringing fun to yoga:
Yoga does not always have to be intense and monotonous. Leave it to the Yoga Alliance Certified Yoga Instructor. She knows how to make yoga much more fun by combining it with music, elements of humour and her personal charm. Also, her Instagram feed has a very fun and light-hearted vibe to it.
She can surely charm you into doing yoga! Hands down one of the best fitness influencers in Singapore to follow.
Equipped with the best knowledge and skills:
Jovin is certainly armed with various sports certifications in his belt. He has attained a bachelor's degree in Sports Science and is also a certified trainer in the American Council on Exercise (ACE). Jovin has also won several awards including:
– Manhunt Singapore Winner 2010
– Mister Singapore 2008 Winner
– Manhunt International Best Physique 2010
Tailoring to your needs:
Jovin is empathetic of his clients. After all, everyone has their own distinct journey that should not be homogenized. Be part of his follower base and challenge yourself beyond your comfort zone.
Calling out all Clicknetwork fans out there! You will surely know the next influencer on our list.
Inspiring fitness trainer:
Tyen was once an underweight kid (as low as 40kg) due to eating problems. She was also diagnosed with clinical depression when she was 17 years old. Nevertheless, her passion for weightlift and fitness goals allowed her to overcome these setbacks. She is now rocking the stages as an IFBB Bikini Girl and competing overseas. After all, this lady works out five times a week while following a high protein diet.
Credible fitness regime:
Besides being known as DJ Jade Rasif's sister, Tyen is famous for being the host of No Sweat series in Clicknetwork. Simply head down to YouTube to check out her fitness and health content.  The episodes are super entertaining and empowering. Tyen is capable of mixing fitness and fun together so that audiences feel less intimidated about this topic. You will be exposed to various health tips. These include amazing healthy and convenient meal prep for the week!
Preston Sim is a name that many fitness enthusiasts in Singapore would have heard of.
Against all odds:
With a massive follower base of 35,000 (and growing), Preston offers personal training, support and advice to men who want to transform their bodies. More importantly, he is the best in helping people to overcome their mental obstacles and embrace effective workouts. Why? Do not be deceived by his hunky looks and charming smile. He personally has overcome social rejections. Nevertheless, his dedication to health transformation is very inspiring, which makes him one of our favourites.
Inspiring public figure:
You can never be too positive in life. His Instagram radiates positivity with different types of motivational quotes. His content will surely lift your spirit up to get fit!
Tiong Jia En is a mini-celebrity in her own right.
Forging new paths:
The Miss Universe Singapore 2018's runner-up and a rhythm cycling instructor are more than meets the eye. Similarly, she is also a barre and opens up her own fitness studio. Despite having financial constraints, she was able to create her own brand. Her Instagram and social media accounts are always beaming with a positive outlook on life. After all, it is all about perspective. She is never too shy about her routines and poses on social media. Although it is challenging, she makes it look simple! What can I say, her determination and attitude is contagious on us viewers. Anyone will fall in love with this strong lady.
A strong survivor:
Aimee is better known as the Founder of Tangram Wellness, a Singapore-based concierge wellness company offers integrative coaching and personal training to women globally. This fitness powerhouse has overcome alcohol use disorder and clinical depression. Instead of relying on antidepressants and treatments, she turned to long distancing running to achieve her health transformation. She is now an entrepreneur and Singapore National Physique Champion who advocates for fitness and mental health.
Be sure to check out her dialogue sessions! More importantly, she wants other help women face depression, eating disorders and addictions.
In short, we hope this list of the best fitness influencers in Singapore has been helpful for you to find your next source of fitspiration! What are some of your favourite fitness influencers? We would love to know your thoughts in the comment section below.
Check our our other related articles:
Written by Norazim
Related posts
Subscribe for newsletter
* You will receive the latest news and updates on Singapore's best trends!