7 Most Comfortable Office Chairs To Buy in Singapore
Puneeta, 8 months ago
1
5 min

read
57
Staying in the office all day can get tiring. Thus, investing in a comfortable office chair is extremely worthwhile. The best chairs are the one that provides the best back support. However, it is not easy to find the best one for you. We never know which is perfect and which to buy as required. In any case, do not worry; we are always there for you. Today we compiled a list of seven most comfortable Office Chairs available in Singapore. 
The boss chair is very relaxed and comfortable, and perfect for anyone who is working at home or at the office. You can work for long hours on this chair because it consists of a comfortable 'S' shape backrest.
This backrest helps in providing breathable support to your back. Moreover, this chair offers a 155-degree adjustable mode for resting. It also consists of an adjustable headrest and removable neck rest. You can pull and flip the extra adjustable seat of the chair. Overall, this chair is the definition of comfort and hands down deserving of topping our list of the most comfortable office chairs to buy in Singapore.
Key Features
Metallic frame with best back support
Sturdy support for hip
Rotatable with adjustable height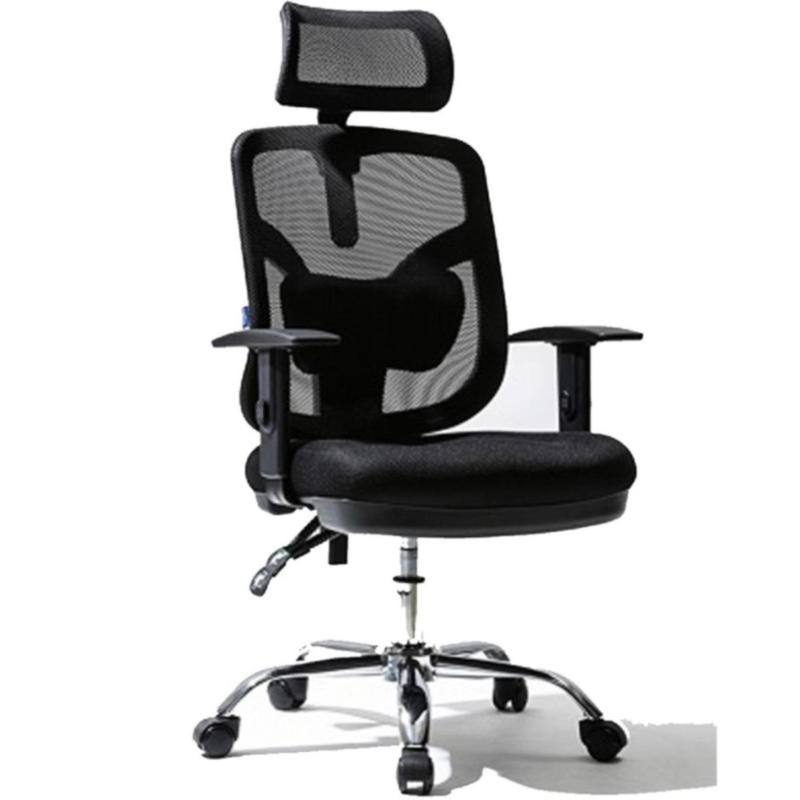 The Exclusive Ergonomic Office Chair is a floor-friendly wheely chair with chrome legs. This chair is comfortable to lean on with an adjustable armrest and headrest. Additionally, the bottom of the office chair consists of nylon material.
This chair comes in two different colors; black and blue. Thus, rest assured that this chair is both comfortable and aesthetic!
Key features
Adjustable armrest and headrest
Ergonomic backrest with new S-Shape
Comfortable for your waist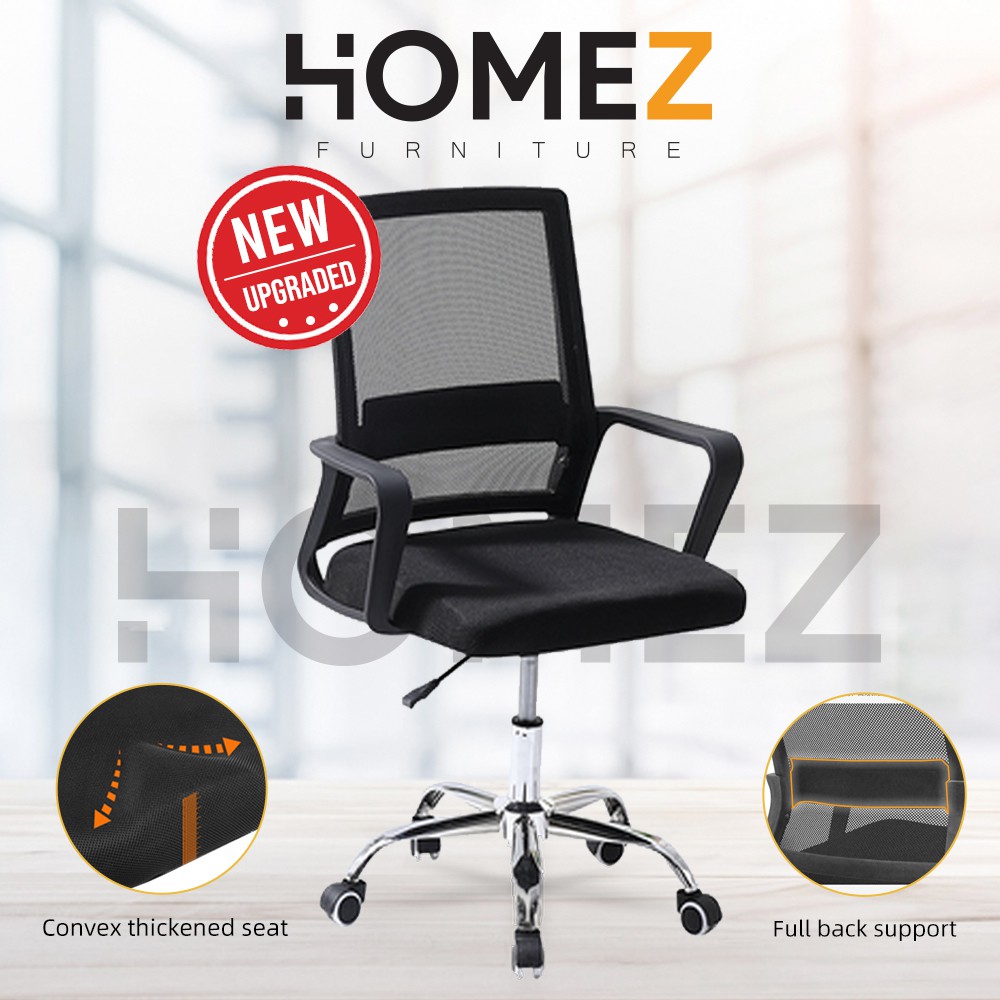 Homez's Mesh Office Chair is a super friendly and high-quality office chair for you. This chair is straightforward to assemble and is perfect as an office chair because of its compact size.
This comfortable office chair is also effortless to adjust. The cushion of the chair's seat consists of high-density sponge, which helps in making the sitting mode relaxable.
The armrest of this office chair comes in a 'L' shape, which helps keep the arm sturdy and curved. Overall, definitely one of the most comfortable office chairs you can find in Singapore.
Key Features
Adjustable height with breathable mesh
High dense sponge seat for cushion-like feel
Chrome steel to withstand the weight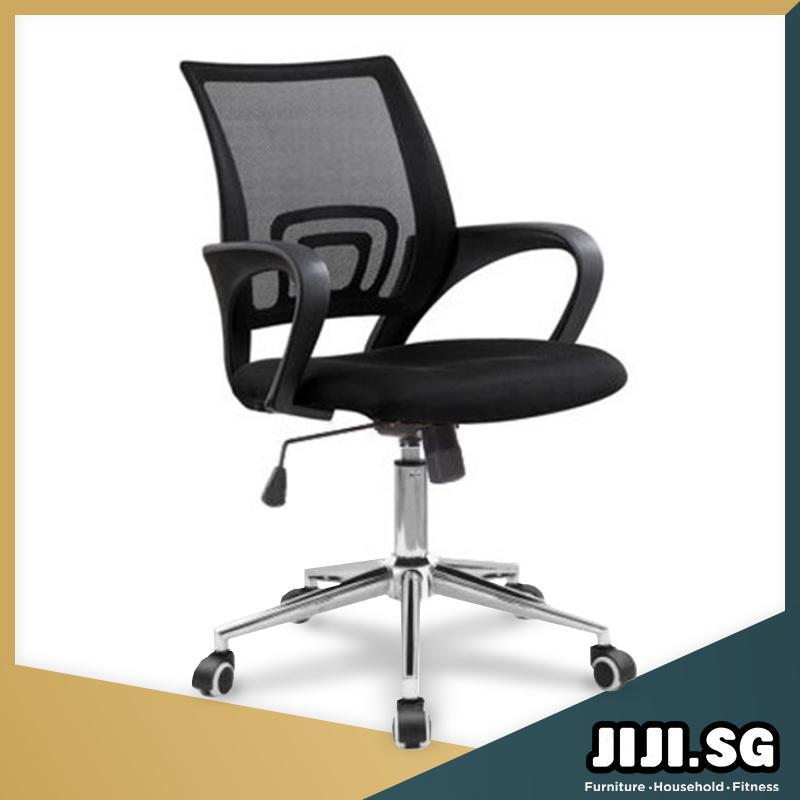 The high-quality nylon and aluminum material makes this chair extremely sturdy. The chair weighs around 10 kilograms, and is easy and straightforward to move around in the office setting.
Jiji home and office chair features a streamlined armrest. The form of the chair's cushion is very safe and additionally, the classy shape of the backrest helps in protecting the waist from the worse pains.
You can also use this chair for gaming and other fun activities. One additional wow factor of this chair is its aesthetic look. Overall, this is truly one of the best and most comfortable office chairs you can find in Singapore.
Key features
Simple and elegantly designed
S-type backrest with breathable mesh
High-density memory foam like cushion feel
This adjustable office chair consists of rollerblade wheels that makes it easy to move around in an office setting. The seat of the Duramont Ergonomic office chair is very thick, helping to support the back and waist.
Also, you can quickly resize the angle and height of the headset part of this office chair. The cover of this chair consists of small holes that support the fresh air circulation too.
You will undoubtedly remain sweat-free and pain-free, even after sitting for an extended period. Now you can work for a long time sitting on the chair without pain.
Key features
High-quality breathable mesh
Easy to install and handle good weight
Adjustable and long-lasting chair
This essentials executive office chair is an excellent addition to both the office and the home. The design of this chair is unique and also aesthetic; that is why it is a favourite amongst many office workers.
Moreover, the quality of the essential office chair is very durable and superfine. This office chair is well-customized, and also, you can adjust the armrest area under four-dimensional ergonomic solutions. Ergonomic design with the comfortable seating of this office chair helps in improving your posture.
Key features
SoftThread Leather seating
Swivel chair with a comfortable sitting
Durable furniture
This chair has proven to be best for studying candidates because they can comfortably perform their writing while using this chair. Their back remains entirely flexible when they sit on this chair.
Also, the texture of the Simple mesh home study chair's material is screen cloth. This seat also consists of the armrest area, and also, this chair is effortless to rotate on the required position.
The simple mesh chair is very reliable for technical and internship students. Definitely you need a chair with a sturdy frame to hold on your weight for a long time.
Key Features
Sturdy plastic cement frame
Sponge with good memory foam
Ergonomic sitting
So it is important to invest in a good chair with maximum benefits. We have listed the seven most comfortable office chairs in Singapore for you. Thus, see which one is most suitable for you and buy one today! It will truly be worth the investment.
Related posts
Subscribe for newsletter
* You will receive the latest news and updates on Singapore's best trends!