7 Best Cold Brew Delivery in Singapore
Bryan, 11 months ago
1
6 min

read
147
Made through steeping coarsely ground coffee in room temperature water before mixing with water or milk, cold brew coffee is becoming more mainstream and popular. Seen as a tastier alternative to traditional iced coffee, many coffee joints have included cold brew coffee into their repertoire of coffees. Additionally, in the 21st century where convenience is key, there are many different cold brew delivery services on the market. This is why we have curated a list of the 7 best cold brew delivery in Singapore so that you'll easily be able to choose the best delivery service for you.
Enchanted Cafe comes in 1st place on our list. With a dedicated cold brew series, this is the one-stop-shop for all cold brew fanatics in Singapore.
Titled 'Snow White and the 7 Dwarves', this cold brew series features 7 different flavours for all our cold brew needs. The cold brew series features classic white and black options along with innovative new flavours like Bandung and Matcha. You can purchase each flavour separately at $6.90 per bottle, or even purchase all 7 flavours at $50. As an added convenience, Enchanted Cafe is open for orders till 12am every single day, making sure that you'll always be able to satisfy your cold brew cravings. Enchanted Cafe is hands down deserving of topping our list of the best cold brew delivery in Singapore.
For more information, visit their Facebook or Whatsapp +65 8813 1086 to place an order.
Boasting a wide range of cold brew flavours and packages, Kafve Coffee is an excellent choice for cold brew delivery in Singapore.
Kafve Coffee sells their cold brew in bundles of 6. There is also a wide range of flavours like black, Latte, Mocha and tonic cold brews. Furthermore, Kafve Coffee brew your coffee fresh upon order so as to guarantee that you will receive quality fresh coffee every time. Kafve Coffee is an excellent pick also due to their cheap delivery fees. For single bundle purchases, there is a small delivery fee of $3. If you purchase 2 bundles, you'll be enjoying free delivery islandwide.
For more information, visit their website, Facebook or Instagram.
Don't let their unique name scare you off. They coined their name as a tribute to the hardware heritage of the site. Housing various metal and hardware companies previously, the building is now home of PPP coffee. With various cold brew varieties and package deals, CCSH ranks 3nd on our list.
Apart from black and white cold brew, CCSH has a unique black cold brew infused with nitrogen called 'Nitro Black Matter'. In addition to providing these varieties, CCSH also allows you to purchase bottled cold brew in packs of 6. If you're a fan of both black and white cold brew, you have the added option of choosing 3 bottles of each for the pack. When delivered, CCSH's white cold brew is best consumed within 5 days while their black cold brew can be kept up for 4 weeks. Through this package delivery deal, CCSH is a great choice for cold brew delivery and truly one of the best in Singapore.
For more information, visit their website or Instagram.
Up next is Bootstrap Beverages who specialise in producing cold brew. Having dedicated 5 years to honing their craft, Bootstrap Beverages is a great cold brew delivery.
Bootstrap Beverages uses 100% Arabica coffee to deliver top-quality cold brew. You'll be left spoiled for choice as there are 7 different cold brew varieties on the menu. Each bottle has a 250ml capacity and can be ordered in packages. If you come from a family who loves coffee, consider purchasing their 24-pack option for 10% extra savings. Furthermore, Bootstraps Beverages offers free island-wide delivery. This way, they offer quality cold brew in an affordable and accessible manner.
For more information, visit their website.
Next on our list is Parallel. Often times, you know that a shop is great when they only sell one type of product. With only cold brew on the menu, you can be sure that Parallel does cold brew the right way.
With the 4 options of black, white, mocha, and oat milk, you can have your cold brew any way you want it. There's even an added level of customisability offered as you'll be able to choose between sweetened or unsweetened cold brew. At Parallel, their coffee is brewed in small batches for quality control to ensure you receive only the best. Furthermore, the cold brew from Parallel has a shelf life of 6 days and can be drunk at your convenience. Overall, they offer superb coffee and provide one of the best cold brew delivery in Singapore.
For more information, visit their website, Facebook or Instagram
Candour Coffee offers a wide range of cold brew coffees, lattes and teas. Every cold brew lover is sure to find their go-to favourites in the extensive selection provided.
The wide variety of cold brews come in 300ml bottles which are perfect for 2 servings. With 16 different cold brew flavours on the menu, this is a great opportunity to branch out and sample new flavours. Furthermore, the delivery charges are waived for orders with 6 or more bottles. Through this promotion, Candour Coffee offers the perfect opportunity to try out some new flavours or stock up on favourites.
For more information, visit their Facebook or Instagram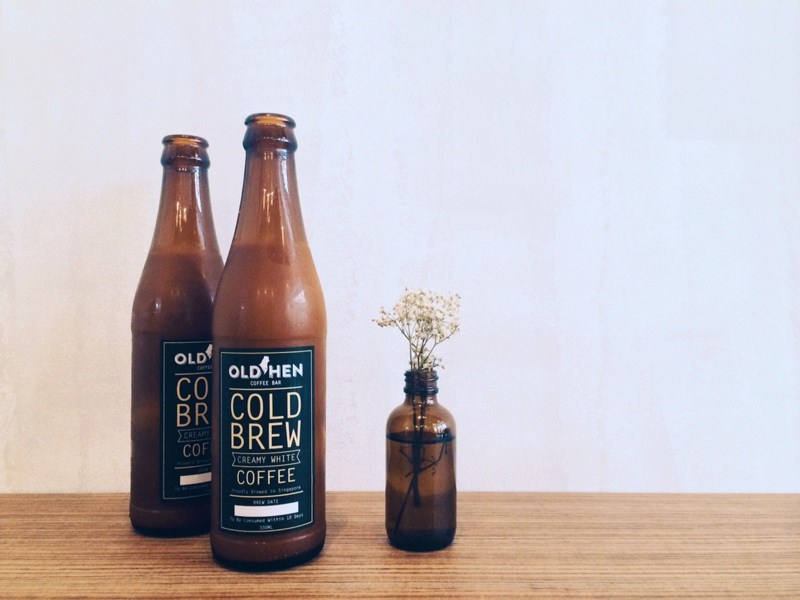 Completing our list is Old Hen Coffee. Providing deliver services for both black and white cold brew options, you'll be able to enjoy delicious cold brew whichever way you prefer.
Old Hen Coffee offers delivery service for standard 330ml bottled cold brew as well as their 1liter option. This 1litre option is available for the white version of their cold brew and is promised to be creamy, nutty and chocolatey. In addition, cold brew deliveries are guaranteed to have a shelf life of at least 3 days. Overall, if you love cold brew with milk and want more than a small bottle, Old Hen Coffee is our recommended cold brew delivery service for you.
For more information, visit their website, Facebook or Instagram.
Cold-brew has rapidly risen in popularity to become a beloved drink among many in Singapore. With an increase in cold brew delivery services, the days of queueing up for cold brews are over. Using our list of the best cold brew delivery in Singapore, you'll soon find yourself in cold brew paradise right from the comfort of your own home!
Related Topic: Best 5 coffee grinders to buy online in Singapore
Written by: Tan Yi Bryan
Related posts
Subscribe for newsletter
* You will receive the latest news and updates on Singapore's best trends!