10 Best Pressure Cookers in Singapore to buy online (2020)
Bryan, 8 months ago
1
8 min

read
59
Sick and tired of slaving away at the stove? Don't have the luxury of time to cook a proper meal? Worry not as the best pressure cookers in Singapore is here to solve all your cooking related dilemmas!
With our hectic and fast-paced lifestyle, we rarely have the time and energy to cook after a long day of study or work. With pressure cookers, you'll be able to cut short your cooking time to an average of just 30 minutes. Furthermore, they allow for a fully hands-off cooking process, giving you that coveted rest and relaxation time that you deserve. Interested and want to find out which pressure cooker on the market is best for you? Our list of the 10 best pressure cookers in Singapore that you can buy online is here to guide you.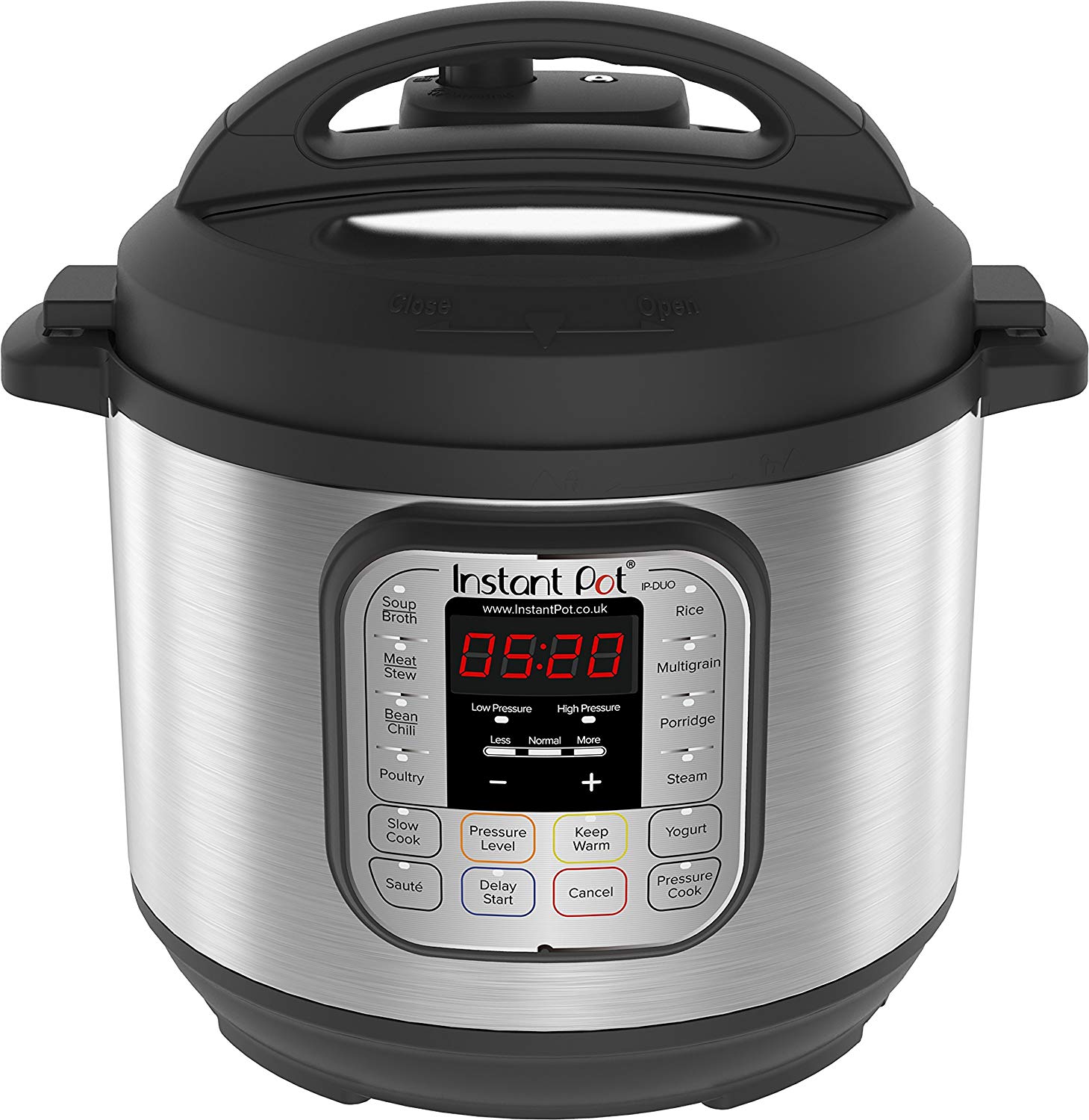 Coming in the first place spot is the incredibly popular Instant Pot Duo 60 V2. This pressure cooker has rave reviews all over the internet with its 7 different functions. Its ability to be a pressure cooker, slow cooker, rice cooker, warmer, and more makes this Instant Pot the one-stop-shop for all your cooking related needs.
Understanding that convenience is key, the Instant Pot has an automatic keep-warm function to keep your food warm all day. You can also delay the start-up time of the pot up to 24 hours. So, you can throw your ingredients into the pot, and program the pot to begin cooking at your convenience. Also, having 10 proven safety mechanisms means that you can rest assured that your meal is being prepared safely. With a capacity of 5.7 litres, this pot is well equipped to feed 5-7 members. This pot deserves the title of the best pressure cooker in Singapore.
If versatility is what you're looking for, the Tefal CY601 is for you. With 15 different pre-set programs, whatever meal you plan to prepare, this pressure cooker can get the job done. Well received by many, the Tefal CY601 guarantees that you'll be on your way to preparing your meal in rapid fashion.
The model prepares your meals up to 80% faster, buying you extra time in the day to attend to other matters. The Tefal CY601 also uniquely offers a sauce thickening function, allowing you to reduce your sauces and soups to their desired consistency. With 12 safety features and a 6L capacity, this pressure cooker is a great choice for larger families and a cheaper alternative to the Instant Pot Duo. This multicooker indeed is one of the best pressure cookers in Singapore.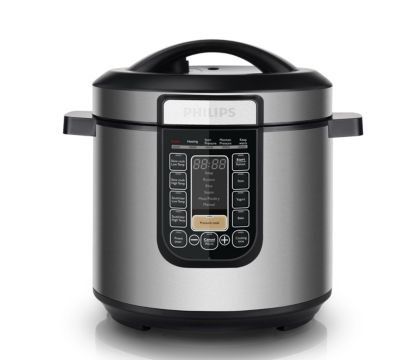 Up next is the reliable Philips HD2137/62 Multi-Cooker. With a large 6L capacity along with a comprehensive and user-friendly user interface, you can't go wrong with this model from Philips.
This pressure cooker allows you to slow cook, pressure cook, and sear, offering multiple different ways of preparing your meal. This model also boasts of its durability with an aluminium alloy inner pot which is also able to conduct heat more efficiently, resulting in quicker cooking time. The Philips HD2137/62 also has an automatic keep-warm function that keeps your food warm for 12 hours. The ability to detach the lid makes cleaning after cooking much easier. With 9 different safety systems in place, this multi-cooker ensures that it gets the job done in a safe manner.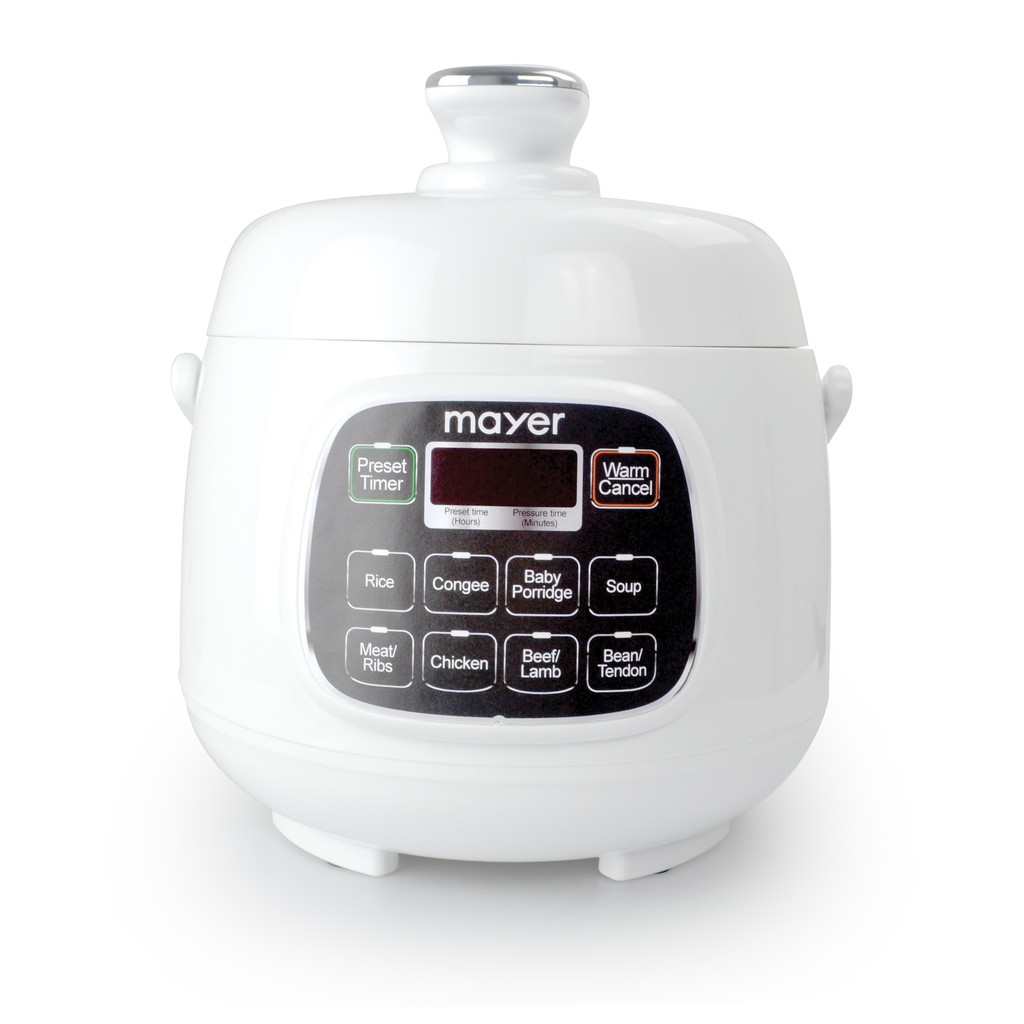 Perfect for small families or individual meals, the Mayer MMPC1650 ranks highly on our list. With 8 different menus that you can choose small, this 1.6L capacity pressure cooker may be small but it packs a huge punch in terms of versatility.
Along with its already user-friendly interface comes a comprehensive user manual to guide you through the processes of cooking and maintenance with this model. The Mayer MMPC1650 features 2 inner pots that are non-stick in nature to ensure that cooking and cleaning is smooth. Automatic pressure adjustment is just one of the 8 safety measure in place to protect you and your family. With a 24 hour automatic keep-warm function and a 24 hour pre-set timer, cooking is simplified and made convenient with this pressure cooker. This is definitely one of the best pressure cookers in Singapore!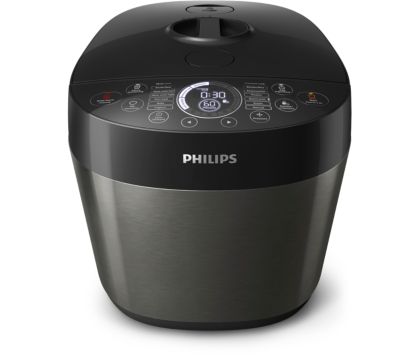 The Philips Deluxe Collection Multi-cooker is one of the more premium models on our list. With an aesthetic design and great versatility, the Philips HD2145/62 is a good option for those who appreciate the ability to customise their programs.
This Philips model allows you to program both the cooking time and cooking pressure. For those with experience, you'll be able to leverage this customisability to prepare your meal according to your desired settings. The Philips HD2145/62 also features a dual control system where the machine will automatically control the temperature in the pot, reducing heating fluctuations by up to 50%. Decreasing the temperature variance will allow different ingredients to cook at the optimum temperature, resulting in a perfect dish. With its 6L capacity, 12 hours keep warm function and 24 hours pre-set timer, the Philips HD2145/62 is the full package.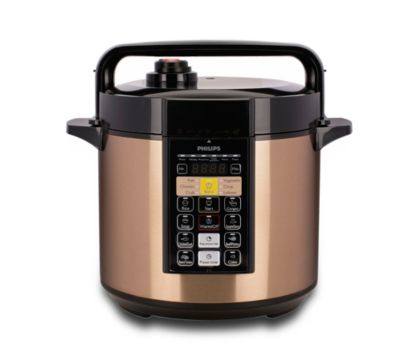 Up next is another Philips model. The Philips HD2139 has superb built quality and is very user friendly. With the menu interface being almost the full height of the model, using the Philips HD2139 is quick and easy.
Speaking of quick and easy, the cooking process efficiently controlled by artificial intelligence and there is a backup memory in the event of power interruption. This means that cooking is completely hands-free once you've placed your ingredients in the pot and there's no need to worry about having to restart the cooking process if the power trips. With 14 different cooking menus, the Philips HD2139 can handle whatever meal you plan to have. Much like other highly rated pressure cookers, the Philips HD2139 has a 12-hour keep-warm function and a 24 hour pre-set timer as an added convenience for you. This pressure cooker is one of the best in Singapore.
The La Gourmet 6L Pressure Cooker comes next as another premium option. Much like the Philips HD2145/62, the La Gourmet Pressure Cooker is aesthetically pleasing and is user friendly. The La Gourmet technology also helps to preserve and lock in all the nutrients of your meal.
With 17 different menus available, you'll be on your way to cooking a gourmet meal of your choice. The presence of 8 different safety features guarantees that you will not scald yourself and that your meal will be prepared in a safe manner. The build quality of the model is also high grade with a tempered glass lid, ceramic pot and stainless steel inner pot. As you would expect, the model comes with a 24-hour keep-warm timer and 24 hours pre-set timer so that you can enjoy your gourmet meal anytime you wish.
The Sona SPC2501 is a great choice for those looking for an affordable yet efficient pressure cooker. Although extremely affordable, the build quality is not compromised as seen in its non-stick coating and stainless steel body.
Though it has lesser functions available, it is still able to prepare meals in multiple cooking methods through its slow cook, pot roast, sauté and soup functions. It also has a 24-hour programmable timer that allows you to conveniently decided when you would like the model to begin cooking. With a keep-warm function included, the Sona SPC2501 is a well-functioning and convenient pressure cooker perfect for those who prioritise affordability.
The Lamart Pressure Cooker has the largest capacity among pressure cookers on our list. Thus, it is great for those with many mouths to feed. If the advanced technology in the other models is not for you, this cooker is a great stovetop alternative.
Using high-quality stainless steel and durable plastic, this pressure cooker is guaranteed to last. The presence of a pressure gauge, a dual safety valve, and an overpressure safety plug ensure that the cooking process is safe. This cooker is also designed to work on all stove types, making it a suitable addition to your other kitchen appliances.
Rounding out our list is the Joyoung Y-50C82 which is wildly famous in China. Praised for its ability to double boil soup, this pressure cooker is great for preparing nutritious soups for the family.
With its 5L capacity and dual pots, preparing multiple dishes is a trivial task for the Joyoung Y-50C82. Moreover, having a user interface in Mandarin but also providing an English manual appeal to a wide range of audience. If soups are your thing, this pressure cooker is a great choice. This pressure cooker is truly one of the best in Singapore.
In a world where things are getting more hectic, we demand greater convenience. Thus, pressure cookers are here to save us valuable time spent in the kitchen. With our list of the 10 best pressure cookers in Singapore, say hello to easy meals and extra free time.
Related posts
Subscribe for newsletter
* You will receive the latest news and updates on Singapore's best trends!